We are delighted to welcome Esther Teichmann as this year's Hariban Award Grand Prize Winner. Before welcoming Esther to the studio for her residency, we had the chance to speak and talk about her winning body of work and what she is most looking forward to for her visit to Kyoto in December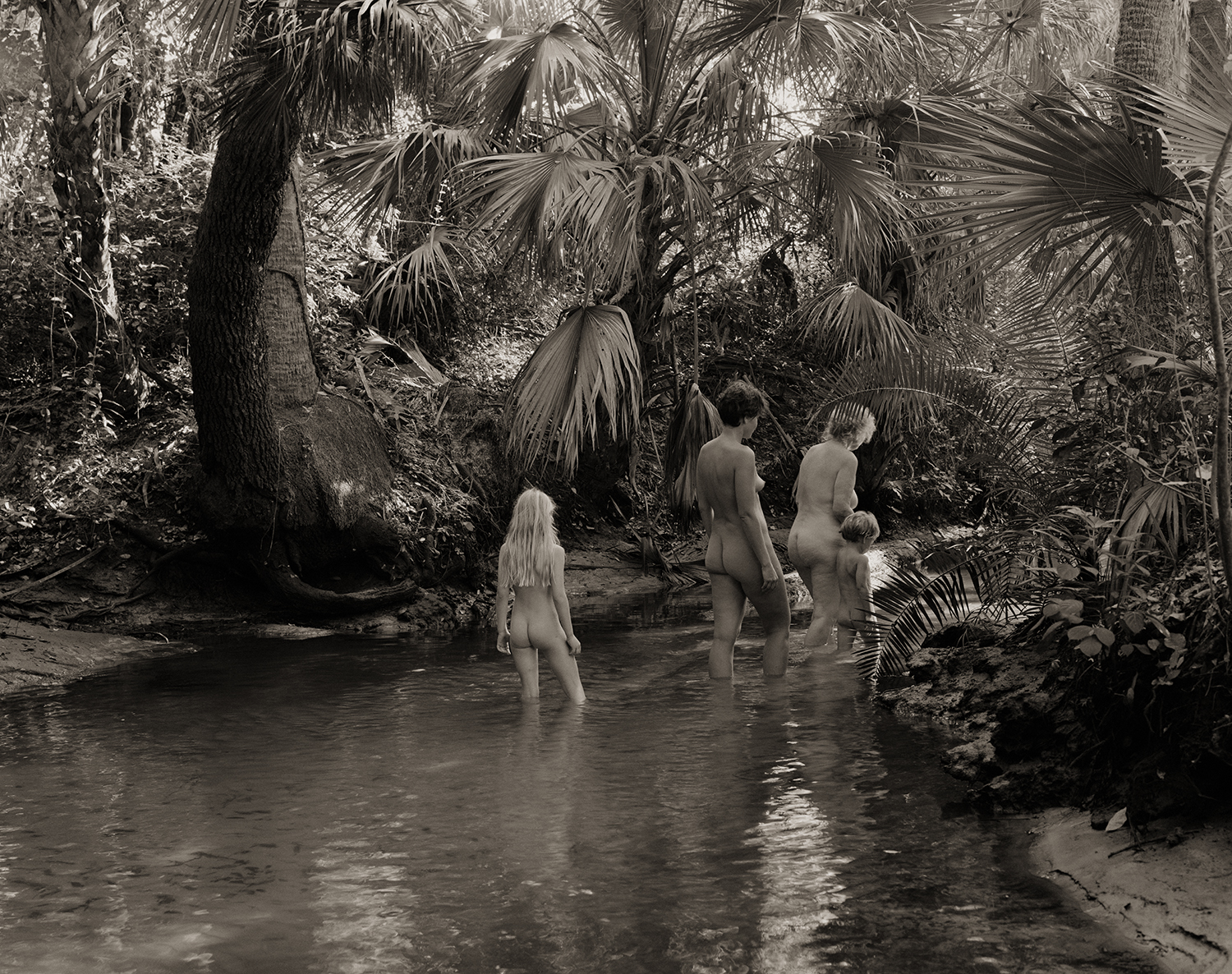 Could tell us a little bit about yourself and what first drew you to photography?
I grew up in a small village in southern Germany in the Rhine valley near the Black Forest surrounded by swamps, lakes and rivers. The summers are incredibly humid with the most exquisite dramatic thunderstorms at night. As a child I would sit in silence with my father on the balcony in the dark, watching the storm unfold, bats flitting across the dusk sky, lightning momentarily exposing the blue back forest hills. This feeling of excitement and pure swelling joy at watching what cannot be put into words, is probably what first made me want to be an artist.
Could you explain your approach to making work and the central themes that you explore within it?
My work explores ideas of inherited home-sickness and the relationship between loss, desire and the imaginary. Within staged fantastical images, the subjects are turned-away figures of loss, always already beyond reach. Here, the photographic is loosened from its referent, slipping in and out of darkness, sometimes further removed by painting into the image in dripping inks, evoking a liquid space of night. The photographs, films and writing transform one thing into another, moving between between autobiography, fiction and myth. My approach might be best described as an unfolding, adding images, film, stories to a continually expanding body of work that is reconfigured as the fragments are pieced together in new ways.
As you will be travelling to Kyoto to collaborate with the artisans at Benrido, do you have any thoughts or hopes of how your work will be translated as collotype prints?– Is there an aspect of the award which you are most looking forward to?
I am very interested in looking back at the history of photography and photographic processes and setting these in dialogue with the present and imagined future, to create work that visually and materially moves across registers of time and place. I am incredibly excited and honoured to be offered this unique opportunity of working intensely with your studio and master artisan printers, and am really looking forward to having the time to work in such a focused way. I am also looking forward to going for long aimless walks through the city alone, having time away from the familiar to think about new work and write.
What do you hope to gain as an artist through this residency?
Often it is learning a new process, working with and learning from people so passionate and expert at their craft, that most inspires me, giving me ideas for new works. I am really excited about creating this body of work as Collotype prints, seeing them in a new form.
あなた自身についていくつかのことを教えてください。なにがきっかけで最初にあなたを写真へと導いたのでしょうか?
私は沼地や湖や川に囲まれたブラックフォーレスト(黒い森)近くにある、ライン川渓谷の南ドイツの小さな村で育ちました。そこは夏の間はとても湿っているところで、夜には雷をともなった激しい嵐が吹き荒れたようなところでした。子供の頃に暗闇の中、私は父といっしょにバルコニーに静かに座り、嵐がやってくるのを見ながら、夕暮れの空を横切るコウモリとか、雷が一瞬青い森を照らし出す光景を見ていました。それらは言葉としてなかなか表現できないような様子で、私は興奮とピュアな喜びを感じていたのですが、おそらくそういったことが私を芸術家になりたいと思わせたきっかけだったと思っています。
作品を作るためのあなたのアプローチの仕方、それによってあなたが探求しているテーマについて説明してもらえますか?
私の作品は、心の中に抱いている故郷を思う気持ちとか、喪失や欲望や虚偽などにまつわる関係性を探求しています。架空のステージとして作り上げた幻想的なイメージの中で、被写体たちは喪失感を抱いた犠牲者でどこへもたどり着くことができません。彼らは暗闇の中にまぎれこんだり、逆に暗闇の中から抜け出そうします。滴り落ちるインクによって画面が塗りつぶされていたり、液体のように漆黒の夜の空間を思わせたりします。私の写真や映像や書いたものは、自伝的であったり、小説のようであったり、または神話的であったりして、そういった異なったフィールドを相互に行き来することでなにか別のものに変化させようとしているのです。私のアプローチの仕方とは、新しいやり方によって断片が再構成され拡大していき、画像や映像やストーリーがひとつになり、その世界が広がっていくというのが最も言い当てた説明となるでしょう。
あなたは便利堂の職人とコラボレートするために京都にいらっしゃるわけですが、自身自身の作品がどのようにコロタイププリントとして表現されることを望んでしますか? また、今回のハリバンアワード受賞によってあなたが最も楽しみにしていることはなんでしょうか?
私は、写真史や写真のプロセスにとても興味を持っていて、今現在と想像上の未来との対話の中で、視覚的かつ物質的に時間と場所を行き来するような作業を行なっています。便利堂のアトリエにおいて、マスタープリンターたちと作業を集中してできるこのユニークな機会をとても光栄に思っていますし、心の底から楽しみにしています。また新作や書くことを思考を巡らすべく、あてどもなく京都の街を一人で歩き回ることも楽しみです。
この制作を通してアーティストとしてどんなことを得ることを望みますか?
私はしばしば新しいプロセスを学んでいるのですが、そういったときは情熱がありかつ熟練した人たちといっしょに作業をしながら習得することが大切だと考えています。そのことは私にインスピレーションを与えてくれるばかりか、新しい作品のアイデアを与えてくれます。今回コロタイプ印刷によって、私の作品が新たなる姿になるであろうことに興奮を覚えます。