Company Overview
Established 1887
Services:
Offset
Collotype
Photography for Cultural Heritage Imaging
Museum Marketing, Product Planning & Sales
Clients
Government Offices:
Imperial Household Agency, Agency for Cultural Affairs, Government Offices Nationwide.
National Public Art Museums:
Tokyo National Museum, Kyoto National Museum, Nara National Museum, Kyushu National Museum, National Museum of History and Folklore, National Museum of Western Art, Tokyo National Museum of Modern Art, Kyoto National Museum of Modern Art, Tokyo National Research Institute for Cultural Properties, Nara National Research Institute for Cultural Properties, etc.
Private Museums:
Seikado Bunko Museum, Idemitsu Museum, Artizon Museum, Okura Shukokan, Yamatane Museum, Hatakeyama Memorial Hall, Ito Art Museum, MOA Museum, Suntory Museum, Mitsui Memorial Museum, Izumiya Hirokokan, Tokugawa Art Museum, Hakutsuru Art Museum, Bunka Yamato Hall, Tesai Art Museum, etc.
Shrines and temples:
Horyuji, Todaiji, Toshodaiji, Kiyomizudera, Koryuji, Toji, Daigoji, Ninnaji, Sansenin, Daikakuji, Kozanji, Sogokuji, Daitokuji, Kenninji, Kodaiji, Shorenin, Byodoin , Shitennoji, Kiyoarajin Kiyosumiji, Chusonji, Zuiganji, Hokkeiji, Nishiarai Daishi, Kenchoji, Engakuji, Enryakuji, Sonoji, Jingu, Miyako, Itsukushima Shrine, Yasaka Shrine, Ishimizu Hachimangu Shrine, Kitano Tenmangu Shrine, Nikko Toshogu Shrine, Nikko Toshogu Shrine, Yasukuni Shrine, Meiji Shrine, Tokyo Grand Shrine, Okunitama Shrine, Tsuruoka Hachiman Shrine, Omi Shrine, Izumo Shrine, Dazaifu Tenmangu Shrine, etc.
Newspaper / Publisher / Agency:
Asahi Shimbun, Yomiuri Shimbun, Mainichi Shimbun, Nihon Keizai Shimbun, Sankei Shimbun, Kyoto Shimbun, Nishi Nippon Shimbun, Iwanami Shoten, Kodansha, Shogakukan, NHK, Dentsu, etc.
---
Technology for Archiving Cultural Assets

Photography of Cultural Assets by Benrido
One of Japan's best and oldest photography studios with over a century of experience specializing in photographing cultural assets.

Photography of cultural assets is necessary to document and conserve the objects themselves, as well as for research and public dissemination. In addition, if something were to happen to an original, photos would help to serve as a record of the original and would be essential for creating a faithful reproduction. Prime examples are the photographs made by Benrido of the wall paintings in the Kondo sanctuary at Hōryūji temple (1935) and the murals at the Takamatsuzuka tomb (1972). These images later became the sole resources for conveying the original appearance of those thousand-year-old treasures. Established in 1887, Benrido founded it's photography department in 1905 and the department is one of Japan's oldest photographic studios specializing in the photography of cultural properties. With a team of experts who draw from a wealth of experience, Benrido continues to make photographs of Important Cultural Properties that are faithful to the originals using technologies that have been cultivated over the years to ensure that they will remain for future generations.


Chronology of the Benrido Photography Department
c. 1903
Nakamura Denzaburo, third son of the founder, took up amateur photography.
1905
Department established with the hiring of a photographer/collotypist. Benrido started photographing sceneries mainly in Kyoto, cultural properties at shrines and temples, and began producing collotype postcards and art books.
1916
Photographed and printed Pictorial Record of Ancient Works of Art (four volumes) for the Imperial Museum of Kyoto (now Kyoto National Museum).
1935
Wall Paintings of the Hōryūji Kondō, showing 12 murals were photographed in full size by creating a composite of images using an infrared camera with four-colour separation printing, commissioned by the Ministry of Education (now the Agency for Cultural Affairs) and produced in 75 days. In 1938, 20 full-size collotype sets were made for the collections of major museums in Japan and abroad including the British Museum.
1955
Order received for photography of Imperial Treasures from the Shoso-in Treasury for scientific research.
Ongoing since 1981 is the preparation of Shoso-in Monjo, an anthology of Shoso-in document reproductions in 800 volumes.
1966
Photographed and printed in collotype for the British Museum the Jin dynasty scroll Nushi Zhen Tujuan (Admonitions of the Instructress to the Palace Ladies).
1969
Photographed works of art in Florence for one year, for the preparation of a series of books on world art by the publisher Shogakukan.
1972
Photographed the murals of the Takamatsuzuka tomb.
1989
Started photography of the Reizei family collection of ancient documents, for publication in 100 volumes by The Asahi Shimbun Company, completed in 2018.
1980s~2000s
Photographed numerous cultural properties to produce collotypes for display in museums throughout Japan.
2015
Wall Paintings of the Hōryūji Kondō, the set of photographs made in 1935, designated an Important Cultural Property of Japan.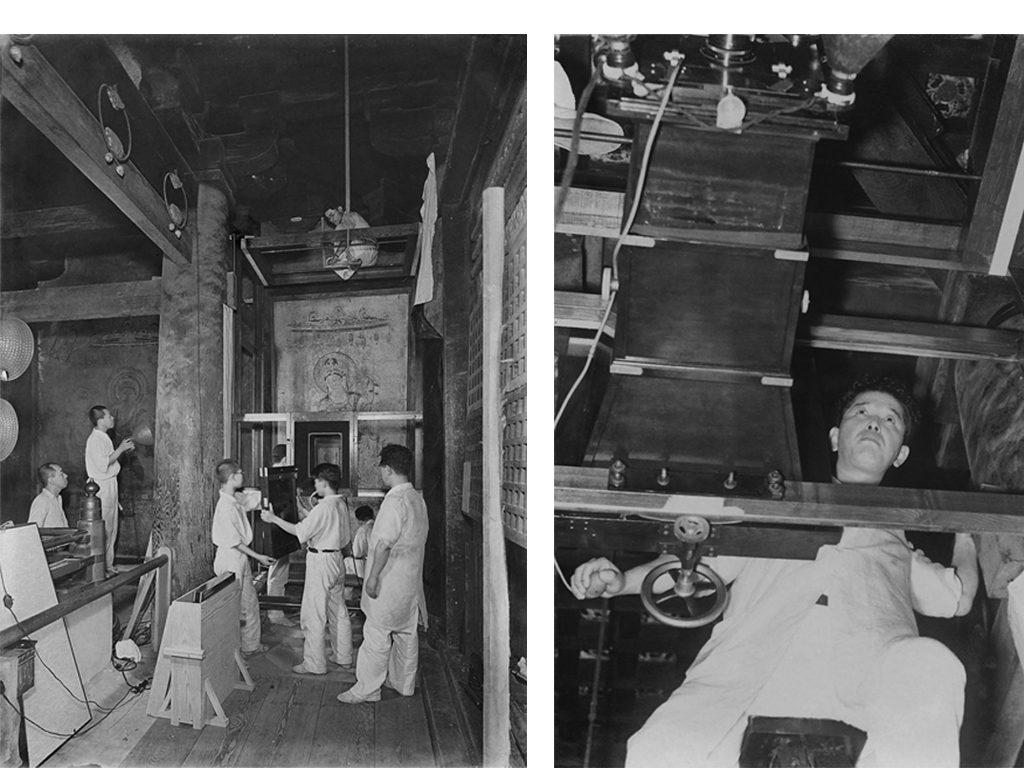 The Benrido Ultra-High-Definition Scanner for Glass Dry Plates
The world's first ultra-high-definition scanner for large glass dry plates
Discovering hidden imagery and preserving historical glass plate negatives
A dry glass plate for photographic use consists of a glass surface coated with a light-sensitive material. These glass plates were widely used from its introduction at the end of the 19th century until the middle of the 20th century when film cameras became the dominant technology. Fragile and hence difficult to preserve, dry glass negatives have typically been in storage for many years, and are deteriorating. In many cases, images shot with dry glass plates are now the only means for viewing historically important landscapes, buildings, customs, or cultural assets that have disappeared with the passage of time. To enable those images to be passed onto future generations, Benrido and a team at Kyoto University jointly developed the world's first ultra-high-definition digital scanner designed especially for the use of dry glass plates. Scanning at resolutions in the range of 2,500 dots per inch, it enables enlargement of details in a negative and other elements invisible to the naked eye can be brought out with density adjustment. In other words, digital high-definition technology is rescuing precious photographic negatives and putting them to new use.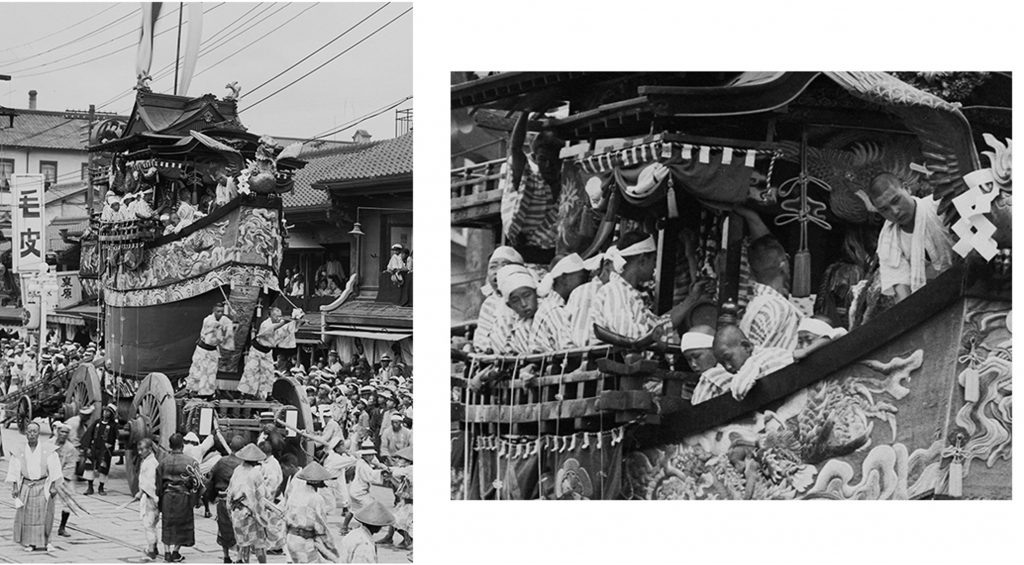 ● Funaboko float, Gion Matsuri (c. 1937)
By viewing the photograph alone this individual is hardly visible.
By viewing the scanned high-definition image, details such as the facial expression become clear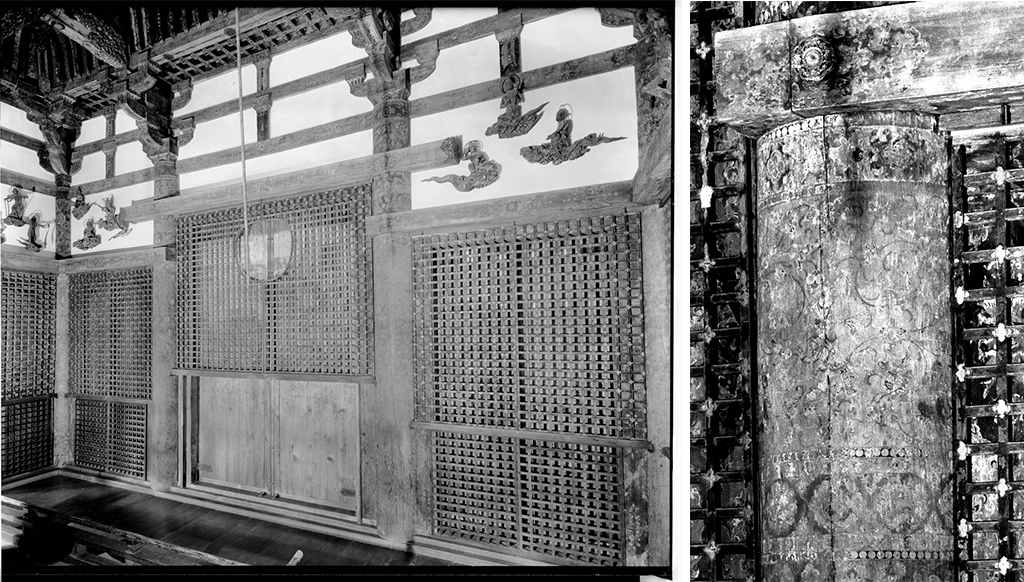 ● Central hall interior, Phoenix Hall, Byōdōin (1955)
The design on the post, invisible in the original print, shows up very sharply.


Features of the Benrido Scanner
● Capable of scanning large glass dry plates.
From carte de visite format (2.1×3.5 in, 54×89 mm) up to 20 x 24 in (500×610 mm)
● Captures ultra-high-definition data, suitable for display on next-generation monitors with resolutions of 8K and higher.
Maximum density of 2.475 billion pixels on an 18×22 inch screen
● Digitizes glass plate data with high precision, thanks to a low-aberration lens and a light source with very low nonuniformity.
● Uses LED illumination, placing no strain on glass negatives.


Specifications
●Filter UV/IR cut filter
●Lens Micro Nikkor 105 mm
●Light source Visible LED
●Resolution 1500 ~ 2600 dpi
●Image size Maximum length 700 mm (27.5 in), maximum width 540 mm (21.2 in)


Scanning Projects Completed by Benrido
2019 Glass plates for Wall Paintings of the Hōryūji Kondō, an Important Cultural Property